WarpEngine™ TCP Optimization Proxy Appliance
WarpEngine™ Carrier Edition is a scalable network optimization proxy appliance that can handle millions of TCP sessions simultaneously with little to no overhead. It can be deployed at the customer premise for Enterprise applications, in a Service Provider's core network or in front of 100's to 1000's of servers in a data center.
Performance for WarpEngine™ depends on network variables such as round trip time (RTT), packet loss %, available bandwidth, size of content, and other factors.   It is based on Badu's WarpTCP™ technology, which was developed specifically to perform well in wireless networks.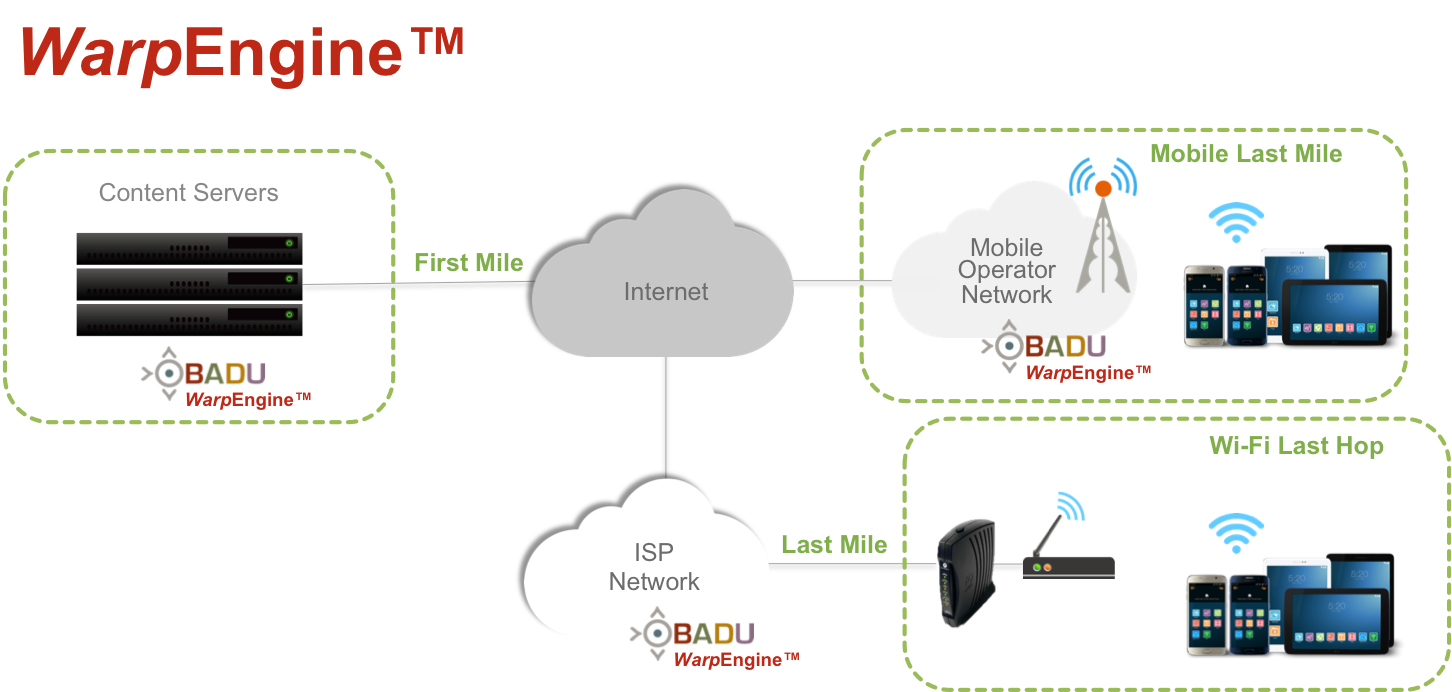 WarpTCP™ — Smarter Congestion Control
TCP was invented 35+ years ago with guaranteed delivery of data in mind, it was never designed for use in massive cloud infrastructures or today's overly crowded wireless networks. Given the jittery nature of today's highly-shared wireless networks, TCP often overreacts to congestion and other network variations which results in a drastic drop in data throughput. This overreacting causes a reduction in utilized available bandwidth, which results in a generally poor user experience.
WarpTCP™ is a set of intelligent algorithms that maximize TCP throughput in the face of network variations such as delay, jitter, packet loss and random bandwidth fluctuation. It was especially designed to maintain high TCP throughput in wireless networks such as LTE and Wi-Fi. Compared to competing TCP acceleration solutions, WarpTCP™ does not overreact to temporary or false-alarm congestion, minimizes re-transmissions, and recovers faster from a congestion event.
Use Cases
WarpEngine™ is ideal for deployment in the use cases below:
Mobile Operators core network to improve throughput for Mobile Last Mile
Internet Service Provider core network to improve throughput for Last Mile
Content Delivery Networks (CDNs)
Enterprise hybrid cloud architecture application optimization
Retail/eCommerce sites requiring fast web page loads
Organizations requiring large file transfers over long network distances
VOD (video on demand) and Video Streaming service optimization
Benchmarks
The WarpEngine™ benchmarks presented below were measured on a live production LTE network. WarpEngine™ completes downloads in half the time compared to Standard TCP.
Free Trial
Discovering the benefits that WarpEngine™ delivers is as easy as asking for a free 30-day trial. Click the "Free Trial" button below to request your free copy of the software. It is risk free and easy to test.
Technical Specifications
Feature
WarpEngine™ Carrier Edition
Form factor
1U rack, 20″ rack depth
Processor
Intel® Xeon® processor E5-2430 v2
Cache
2.5MB per core with 6 cores
Chipset
Intel® C602
Memory
16GB RDIMM, 1600MT/s, low-voltage, dual rank, x8 data width
I/O slots
2 PCIe slots:

1 x8 slot with x4 bandwith, 2.0, half-height, half-length
1 x16 slot with x16 bandwidth, 3.0 full-height, half-length

RAID controller
Integrated hardware RAID, 1GB non-volatile cache
Drive bays
Four 2.5″ hot-plug SSD (SAS or SATA)
Hard Drives
Intel® S3610 200GB 2.5″, Enterprise SSD SATA mix use MLC 6Gbps
Embedded NIC
Dual Port 1Gb LOM (management port)
NIC Adapter Options
1Gbps dual-port bypass:

Copper (RJ45)
Single-mode Fiber LX (LC)
Multi-mode Fiber SX (LC)

Power supply
Dual, redundant, hot-plug 550W AC power supplies
Availability
High-efficiency, hot-plug, redundant power; hot-plug SSDs; TPM; dual
internal SD support; fan fault tolerance
Harsh Environment testing
Military Standard 810G for temperature, shock, vibration and altitude; Military Standard 910D for Shock
Telecom Environments
NEBS Level 3, ETSI
Product Ordering Information
WarpEngine™ Carrier Edition – Ordering Part Numbers:
| | |
| --- | --- |
| WE-1GC-2B-2C-U1 | 1G Copper with NIC bypass |
| WE-1GC-2B-2LXLC-U1 | 1G Fiber LX (single mode) with NIC bypass |
| WE-1GC-2B-2SXLC-U1 | 1G Fiber SX (multi-mode) with NIC bypass |